A full protection from the freezing winter days is sure to happen with one of these battery heated glove liners and mittens on your hands. They are your best option for getting the ultimate security against severe cold.
Battery Heated Glove Liners
Click here to see the biggest selection of heated glove liners!
ThermoGloves
Click here to buy + free shipping + save $71!
Venture
Do not want to give up your existing gloves but you do not want cold hands as well?
The solution is these lightweight electric glove liners that are worn underneath dress gloves. But they can also be used on their own.
They use the hair-thin microfibers to produce pleasant heat that will keep your hands warm for up to  six hours on the lowest setting (two hours on high).
These rechargeable glove liners have the heating elements located on top of each finger. This is very important because this area is where heat loss usually takes place.
Because fibers are so thin, they allow more flexibility and range of motion.
There are three temperature settings and you can choose the desired level with a push button control that can be found on top of each cuff.
This button can be easily operated without taking the glove liners off.
The lightweight lithium ion batteries zip into the palm side of each cuff, hiding them out of sight. They are recharged in just two hours.
Slipping other gloves and mittens over them is very easy because they are made from a stretchable spandex and polyester blend.
This fabric also allows the liners to hug tight to your hands. An adjustable Velcro strap prevents the cold from entering at the wrists.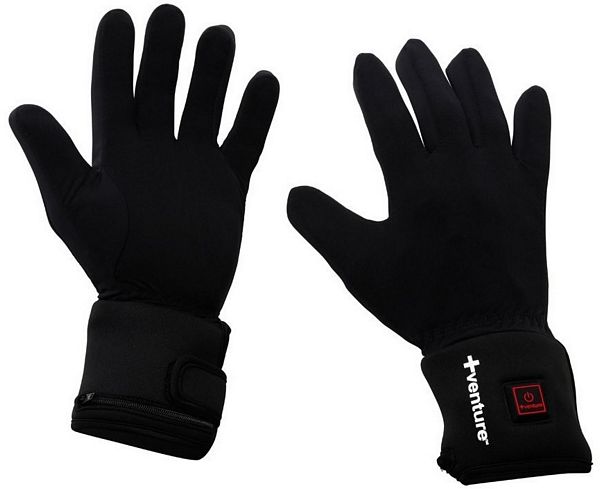 They can be worn by both men and women. Available sizes XS, S, M, L, XL, XXL.
Click here to buy + lifetime guarantee!
Battery Heated Mittens
Click here to see the biggest selection of heated mittens!
These rechargeable mittens can reach 135º F in just 3 minutes, providing almost immediate protection from the cold.
This means that even on the coldest winter days your hands will be comfortably warm.
The battery powered mittens are so powerful because advanced alloy heating elements are woven in the palm and fingers.
Once they are warmed up, you can choose one of two lower temperature levels for more enjoyable and prolonged wear.
Lightweight and removable Li-ion batteries generate up to seven hours of heat on low temp setting and up to 2 1/2 hours of heat on medium intensity.
It takes about 4 1/2 hours to recharge the accumulators.
Another important feature is that the mittens can retain heat because of lightweight Thinsulate insulation that is found inside the water-resistant polyester shell.
Both men and women can wear these heated mittens. Sizes: small, medium, large and extra large.
According to some reviews, it seems that the thumb area is not wired for warming.
But other than this small issue, the product is great.
As one customer said: "Nothing has worked in wintry Central New York, until I tried these mittens. They are worth every penny."
Click here to buy + lifetime guarantee!
These two great products can be worn during motorcycle riding, walking and for winter sport activities such as skiing. But they can conveniently be used by people who suffer from arthritis.
One thing is for sure – the freezing winter days will never be able to benumb your hands again!
See more of best battery heated mittens and glove liners.
Save
For over 12 years, I have been testing and reviewing heating technologies that overcome cold weather conditions. In recent years, I have specialized in the heated apparel. I've made it my mission to educate people about heated clothing.