For true outdoorsmen, camping, hunting and other activities don't end with cold days. For them, every day is perfect for spending time outside.
Thanks to the battery powered heated vests, things are much easier. The heat produced by this clothing can boost the outside fun experience tenfold.
Click here to see the biggest selection of heated vests.
Best Battery Powered Heated Vests
Here are four of the best models you can find on the market.
Verseo ThermoVest

You can use this heated vest as liner under a jacket or as regular vest. Heat is distributed by micro-thin stretchable carbon fibers.
There are three temperature control settings for providing constant heat:
on high setting up to 3 – 3.5 hours
on low-medium setting up to 7 – 7.5 hours.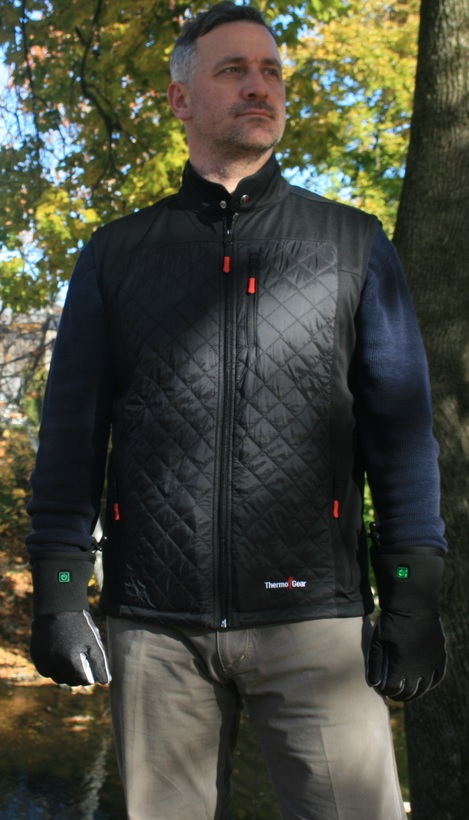 Volt Cracow
This vest is ultra-lightweight with outstanding heat retention!
It's made of really soft denier nylon quilted shell and 80 grams of a material that has incredible insulating properties. It means that the vest holds the warmth superbly, keeping you warm in even the freeziest weather.
Four panel heating system is operated by powerful rechargeable lithium battery.
You can choose desired heat output with built-in 4 level microprocessor controller.
It provides over 150°F of heat for 2.5 hours on the highest setting and about ten hours on the lowest setting.
You can wear it on your own or as a mid-layer.
There is also version for women. It has all of the same functionality as the men's. The main difference is the cut and design that emphasizes woman's body.
Volt Golo Battery Powered Heated Vest
This is another great electric vest that is very comfortable and lightweight.
Its style is so versatile and beautiful that you can wear it for almost any occasion.
It feels like a part of your body thanks to a fitted cut and a 4-way stretch fabric.
The fabric is waterproof and breathable as well as highly elastic. A quilted front panel insulates the core.
All these features give you full range of motion without any restriction.
Three zone heating system is made of 2 panels in the chest and a large panel in the back.
The battery produces up to 170 degrees F of heat for 2+ hours on the highest setting. There are four heat settings controlled by a microprocessor.
With this battery heated vest you will easily survive the cold and wind while looking better than anyone else!
Volt Torso
This vest liner is slim, lightweight and has very low profile design. As a result, it unbelievably feels like a part of your body.
The heating system and battery are identical to the previous two vests.
The only difference is that there are four small heating pads: 2 on top of the shoulders, 1 in the upper spine, and 1 in the small of the back. No heating pads in the chest.
Volt COHO
This fleece vest gives you instant heat with the push of a button. You will stay warm for hours with Zero Layer 7v heating technology.
This lightweight vest uses three zone heating system, providing heat in the main body areas. The Coho is powered by a rechargeable lithium battery pack that is controlled by a built-in microprocessor.
You can regulate the temperature output with four different levels:
100% High – 2 hours
75% Med/High – 3.5 hours
50% Medium – 5 hours
25% Low – 8+ hours
Lenz Heat Vest 1.0
Due to its low-profile fit, you can wear it as a mid-layer or as a stand alone heated vest.
The battery has very long life and amazing heating performance: heat development for up to 20 hours.
It has 2 heating elements in the kidney and back area. You can regulate heat remotely via smartphone.
Thanks to 4-way stretch and highly elastic seams, it provides maximum comfort and mobility. It disperses moisture and dries out quickly.
With fleece insert in collar area and inner pocket, it's wind and water repellent and non-abrasive.
Ororo Lightweight Heated Vest
Ultralight down vest weighs only 0.78lb. It's suitable for all outdoor working and sporting activities, such as: hiking, skiing, motorcycling, hunting, etc.
Heating elements are made of carbon fibers, which have great durability and are very safety. There are four heating panels: 1 around the neck, 2 in the underneath pockets and 1 large panel in the back.
It is powered by a powerful rechargeable battery pack that gives you up to 8 hours of warmth. The power bank can be used as a power supply for your phone.
Gobi Heat Men's Dune 3 Zone Heated Vest
Made with wind and water resistant nylon fabric, it has 3 large zones of heat: two on the chest and one on the back.
Slim-profile Li-Ion battery heats up to 10 hours on a single charge. The one-touch LED controller allows you to change the level of heat from low to medium to high.
IonGear
This vest is made of wind and rain repellent soft polyester. A high collar makes it more comfortable.
It evenly distributes heat – in other words, warmth is not concentrated in the front or back.
Its lithium-ion battery generates heat for more than four hours on the highest setting. When used on the lowest level, the battery can last up to 12 hours.
The controller has three temperature settings, from 30-70°C. In just one to two minutes you will feel heat through the elements in the clothing.
The heating elements can be completely removed, which make it very easy to clean.
Fired Up X Infrared Heated Vest Liner
One of the thinnest vest liners, it is designed to comfortably fit under any garment. Use it convert your favorite jacket, parka or hoody into a heated jacket.
It uses far infrared heat to keep you warm. This heat has therapeutic benefits and is safe and reliable.
There are no metal wires that can break and create hot spots that may burn you.
You can control temperature with your smartphone. Multiple temperature settings and three heating zones: chest left and right and large back.
Super slim lithium polymer batteries provide several hours of heat.
---
In the end, no matter what version you get, I would recommend you to buy additional batteries because they take 4-5 hours for recharging.
So get one of these battery powered heated vests and their warmth will make you comfortable on cold, miserable days.
See battery powered heated vests.
See all heated clothing!
For over 12 years, I have been testing and reviewing heating technologies that overcome cold weather conditions. In recent years, I have specialized in the heated apparel. I've made it my mission to educate people about heated clothing.