Do not let cold weather stop you from enjoying your motorcycle ride! With heated clothing you can extend your riding season into the winter months.
Heated motorcycle gear will keep various parts of your body pleasantly warm while riding in below freezing temperatures. They all run on your motorcycle's 12 volt electrical system.
Best Heated Motorcycle Gear
Here are some of the best heated motorcycle clothing.
Jackets
Gerbing Heated Jacket Liner
It feels really warm with heating pads on the chest, back, collar, and sleeves. Improved ribbing at waist and cuffs. It fits close to the body snugly under outer garments.
Gerbing Gyde EX Pro Heated Jacket with Bluetooth Thermogauge
The baddest heated moto jacket I have ever seen! It even includes a Gyde Bluetooth temperature controller! It has seven Microwire heating zones: collar, chest (2), sleeves (2) and back (2). There is also Knox CE approved armor at the elbows, shoulders, and CE Level 1 back protector.
California Heat Motorcycle Heated Jacket Liner
It can be easily worn under your existing outerwear. The unique heating system provides an even distribution of warmth throughout the body. Heating pads on the chest, back, collar, and sleeves.
Mobile Warming Dual Power Heated Jacket
With this model, you can enjoy heat either on or off your motorcycle. You can either tie into your vehicles 12volt electrical system or use the portable battery with up to 20 hours of power per charge. Constructed of a highly flexible water-resistant and wind proof softshell material.
Click here to see other great jackets or to order!
Vests
Gerbing Gyde Heated Vest Liner
It has five Microwire heating zones: collar, chest (2), and back (2). Also, drop tail back for improved coverage while riding.
Tourmaster Synergy 2.0 Heated Vest Liner
Durable steel fiber heating elements generate safe infrared heat. The elements are lightweight and flexible.Expanding side panels help fine tune the fit and increase comfort.
Gloves
Gerbing Gyde Vanguard Heated Gloves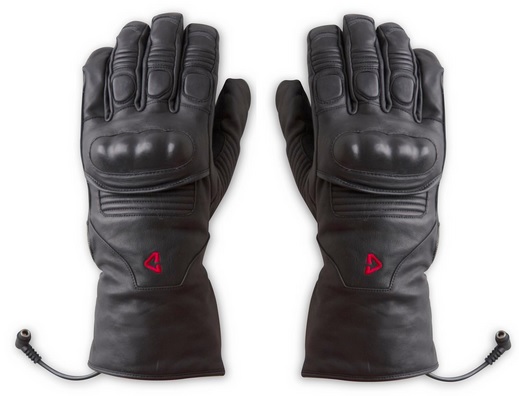 Made of premium Aniline cowhide leather with Microwire heating throughout glove, including to the tip of every finger. Water resistant with reinforcements at palm and edge of hand.
Volt Heat MOTO Leather Motorcycle Gloves
Also made from a rich, drum dyed, top grade cowhide leather, these gloves are exceptionally light, strong and flexible. Heating elements are placed throughout both sides of the hand and the entire length of each finger.
California Heat Leather Heated Motorcycle Gloves
They are made with exceptionally soft cowhide leather. The design is lightweight, pliable and strong. These waterproof and gloves heat the top of the hand, fingers and the thumb. Thinsulate insulation and brushed liner provide additional warmth and comfort.
Click here to see other great gloves or to order!
Insoles and Socks
Gerbing Gyde Heated Insoles
Maximum heat is 135 F and warms entire surface area of your foot. Power them directly from a 12 V electrical system, or from 12 V lithium battery packs so you can use them when not riding your motorcycle.
Gerbing Heated Sock Liner
It has stretch upper panels for comfortable fit and non-stretch bottom panels for durability and to prevent slippage. It insulates and wicks moisture to keep you warm and fast all day.
Warm & Safe Heated Socks
They provide heat in the toe area where bikers usually get cold from wind and spray. They aren't too bulky to fit in your boots, they are very comfortable and you don't even feel wires.
Click here to see all heated motorcycle insoles and socks!
Pants
Gerbing Gyde EX Pro Heated Pants
500 denier outer shell with rip-stop material in all impact areas. Breathable waterproof membrane in outer shell with a durable water repellent finish. Four Microwire heating zones: leg (2) and hip (2). Knox CE approved armor at the knees in height adjustable pockets. Direct ventilation on the thighs.
Click Here to Buy One of These or to See Other Models!
—
This is just several models that I highly recommend you consider getting. If you need more options, watch this video:
So, if you haven't yet explored the world of heated motorcycle gear, now's the perfect time. Don't be left in the cold when the temperature drops. Be a warm rider.
Save
Save
For over 12 years, I have been testing and reviewing heating technologies that overcome cold weather conditions. In recent years, I have specialized in the heated apparel. I've made it my mission to educate people about heated clothing.