There is nothing so troubling than cold feet, in winter, in bed or in any other time and place!
It might seem that your feet are the hardest part of your body to keep warm.
Your other parts might feel warm and toasty, but your feet remain stubborn little blocks of ice attached to your legs, making you really miserable and uncomfortable.
So, what is the best way to keep your feet warm all the time?
Heated products!
You can try all other methods and solutions but nothing will warm your feet like these products!
So, what are they?
Rechargeable heated socks – they are the best way to eliminate cold feet. You can finally be at rest and keep your feet warm at all times, no matter what your activities are. They are popular among senior citizens, outdoor workers, bikers, sportsmen. Even policemen and military personnel are using them every day. They are great way to make your life easier! They are powered by rechargeable batteries. Some of these heated socks can keep your feet warm for up to 10 hours. If you have a spare pack of batteries, your feet will never be cold again!
Heated slippers – these might be just the right thing for you if you wish to have toasty feet in your home. These slippers are a godsend for so many people. They not jut supply heat to your feet but they are also very comfortable to wear. They do not just help your feet to stay warm, but can also help with foot pain and arthritis. They are ideal to provide warmth to your toes in the comfort of your home. Gone are the times when people had to rely on fire to keep their feet warm. See Best Electric Heated Indoor Outdoor Slippers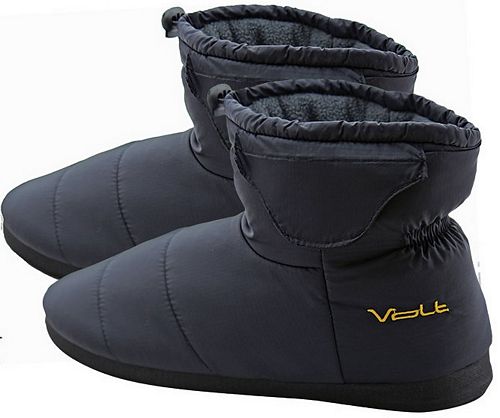 Heated insoles – use them to prolong your outdoor cold-weather activities while heating your frozen boots or shoes. They also have ergonomic shape to give you the ideal support. There are even models that are remotely controlled. They are completely safe and are available in various sizes. The heated insoles will allow you to stay outside longer, keep your tootsies nice and warm. They will make a huge difference in your life. Winter Battery Heated Foot Insoles.
Bed warmer – If you only have cold feet at nigh in your bed, this is the right solution for you. It keeps toes toasty without overheating the rest of your body. It is large enough to accommodate two pairs of feet. It's light and soft enough to not make your feet feel weighted. It works exceptionally well and really makes you comfortable. You will be very happy with this warming device. You are not limited to using this pad just in your bed. You can take it with you and use at your office as well.
You can also keep your feet warm with electric heated slippers.
Whether your cold feet are from poor circulation, arthritis, cold floors or you simply want more warmth and comfort, these heated products are unmatched.
See also electric foot heating pad and Best Chemical Toe & Foot Warmers.
For over 12 years, I have been testing and reviewing heating technologies that overcome cold weather conditions. In recent years, I have specialized in the heated apparel. I've made it my mission to educate people about heated clothing.