Ladies, you can easily and quickly beat the long chill with the following electric heated jackets.
They would allow you to stay warm in winter or any other cold climate. That's not all, they also make fashion statements.
Gerbing 7V Women's Heated Softshell Jacket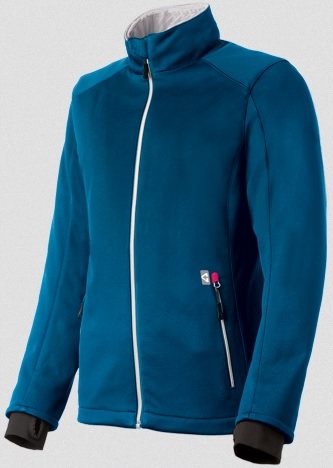 The bestseller for years because of its performance and durability. It is the world's most advanced soft shell jacket.
wind blocking and water resistant soft shell
in-pocket heat control
water resistant weld chest pocket
telescopic cuffs
adjustable drawcord to trap heat
Battery has 4 heating settings with max heat 135F.
Women's ActionHeat 5V Battery Heated Jacket
This jacket is revolutionary in the world of heated clothing. It uses 5V signal technology, which means that any 5V battery can be used to power it.
It features strategically placed built-in heating panels (front and back) and is made with a material that is lightweight and comfortable with maximum insulation.
Heating time:
High: 135F – 3+ Hours
Medium: 120F – 5+ Hours
Low: 90F – 10+ Hours
Ravean Women's Down Heated Jacket
This lightweight and packable jacket comes with a removable and adjustable faux fur hood.
The outer shell is 100% nylon with DWR coating, which means it sheds rain, snow and provides wind resistance..
Lining is 100% polyester, while filling is 650 down 90% duck down and 10% feathers.
Heated back, chest and pockets. Because it uses 12v battery kit, it heats a larger surface area than 7.4v or 5v systems. Heat lasts up to 6.5 hours on the lowest setting.
The battery pocket fits right on the side of your torso. The battery is curved to fit comfortably on your side while standing or sitting.
You can control the internal temperature as the weather changes. For windy, 45F days, just wear the jacket without using the heating system.
For chilly, 35F days, select low mode to stay comfortable. When it's getting cold (0-20F), choose medium setting.
For those very cold sub-zero days, turn your jacket to high mode to stay warm.
Not only does this jacket warms your body, it can charge up to 4 mobile devices.

Women's Mobile Warming 7V Aspen Electric Heated Jacket
It's lightweight construction makes it perfect for all types of outdoor activities. The 4-way stretch high breathable, waterproof fabric provides additional flexibility.
With water resistant fleece and mesh lining that wicks away moisture.
Three heating panels with steel alloy fiber elements are placed on the front and back.
Battery features built-in 4-level thermo-regulating controls:
100% – 135°F – 2.5 hours
75% – 120°F – 3 hours
50% – 105°F – 5 hours
25% – 90°F – 10 hours
FNDN Women's Heated Parka with Built-in Heated Gloves
This heated parka coat is one of the most technically advanced coats on the market.
It combines water-resistant and windproof shell fabric and carbon fiber heating elements. The heat is trapped across core body areas.
It is powered by a long-lasting battery system, which you can also use to charge your mobile device.
Up to 9-hour battery life on low heat.
You can easily increase or decrease the heat level using the multi-zone controller on the chest. You can even control the temperature of the built-in hideaway gloves.
The removable, fully adjustable hood has a removable, faux-fur ruff.

Click Here to Order With Free Shipping!
Venture Heat Women's Escape Heated Softshell Jacket
The entire jacket is lined with an ultra soft plush fleece which provides amazing comfort while at the same time traps the heat.
It is also water resistant and windproof.
The micro-alloy heating panels (one on each chest and one in the back) provide maximum efficient heat transfer.
Powered by any USB power bank. Heat setting and duration:
low – 11 hours
medium – 6 hours
high – 4 hours
Volt Heat 7V CRACOW Insulated Heated Jacket for Women
Ultra-lightweight with extraordinary heat retention.
It is constructed with soft, 20 denier mini rip-stop nylon lining and quilted shell filled with 80 grams of compressible polyester fiber insulation.
7v lithium battery powers a 3 zone heat system concentrated in the chest and back.
Provides over 170 degrees of heat. Battery run time depending on the power level:
100% – 2.5 hours
75% – 3.5 hours
50% – 5 hours
25% – 10+ hours
8K FlexWarm Women's Battery Heated Jacket
This model combines contemporary design, amazing quality and innovative heating technology.
It is a lightweight and stylish jacket that perfectly fits the contours of the body.
The heating technology is very thin so it can be printed and then layered onto fabric. As a result, the 8K jackets are ultra-lightweight, durable and washable.
This technology evenly distributes heat, which means no cold spots and less warm up time – 50 C in just 360 seconds.
Ribbed cuffs prevent heat from escaping. The body is completely insulated, even when the heating zones aren't activated.
You can control the temperature with your smartphone.

Click Here to Buy With Free Shipping!
Milwaukee M12 Heated Women's Jacket
With an optimal women's cut, the jacket integrates carbon fiber heating elements in the back, collar, and pockets.
Wind and water resistant soft shell construction.
High-loft insulation and a brushed thermal lining hold heat in to maximize warmth.
Battery has three heat settings:
low – 8hr
medium – 4.5hr
high – 3.25hr
Gobi Heat Victoria Women's Heated Coat
With an athletic, snug cut, this hooded jacket is ultra lightweight. It's made of wind- and water-resistant nylon fabric.
You will be surrounded by warmth with 5 heating zones – four in the front (chest and behind the lower pockets) and 1 large zone in the back.
You can choose a perfect temperature with one touch of the LED controller. The slim, yet powerful rechargeable battery powers the jacket for up to 9 hours on a single charge.
Stay warm and look great with these electric heated winter jackets! Or see heated work jacket.
For over 12 years, I have been testing and reviewing heating technologies that overcome cold weather conditions. In recent years, I have specialized in the heated apparel. I've made it my mission to educate people about heated clothing.