The clothes you're considering for winter need to be able to keep your body in a state that will make your outdoor experience satisfying and problem free. That's where electric heated pants come in!
Mobile Warming Dual Power Heated Pants
Unlike other models that are pretty bulky, these are noticeably lightweight and look slimmer and you can freely move in them.
They are dual power which means you can either connect them to your bike's 12 volt electrical system or use the portable Lithium-ion battery for those times when you are off your motorcycle. It also has integrated heated jacket connectors.
You can turn up the heat with the touch of a button! The pants are made of a highly flexible water-resistant and wind proof softshell material. Fleece inner liner is also water-resistant
The pants have four heat settings (from 100°F to 149°F) and heating panels are located in the upper rear seat, waist, and in the knees.
There are also:
taped and seamed waterproof hand pockets
expandable cargo pockets on thighs and rear
adjustable hook and loop waist closure
stretch side waist panels
¼ length boot side zippers
Gerbing Gyde Heated Pant Liner – 12V Motorcycle
These use advanced interconnect system so you can plug them into electrical system on your bike, snowmobile, ATV, boat or even airplane.
They fit close to the body and easily under your outer garments.
They have four Microwire heating zones: leg (2) and hip (2). Max heat is 135F.
The liner is made of mini ripstop nylon shell with taffeta lining.
They also include ore-wired sock / insole connections at end of legs.
California Heat 12V Motorcycle Heated Pant Liner
They should be worn under outer pants or chaps. Because they are made from rip-stop nylon, they are wind-resistant, water-repellent and very lightweight. They also have Thinsulate insulation.
They use finewire heating technology, which is the lightest and most comfortable heat available.
Heating pads route down the top of the legs and along the hips.
California Heat is well-known for producing top-notch heating apparel that bike riders have come to respect in a very short period of time.

Mobile Warming Waterproof 7V Heated Pant Liners
These have extraordinary waterproof protection; they are fully seam-sealed and are made of a lightweight nylon taffeta shell.
The liners have improved durability with minimal noise while walking.
They are powered by rechargeable lithium-ion battery pack, which heat heating panels in two front hand pockets. Battery provides up to 10 hours of heat.
Ansai Mobile Warming Longmen Heated Base Layer Pants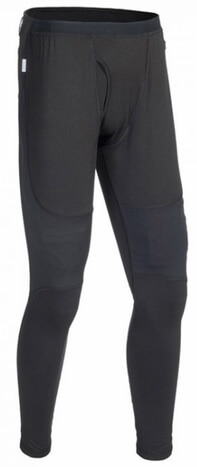 These are designed to wear under other garments.
They have amazing wicking ability, which means they are a must for long-term exposure to cold weather.
Three heating panels – two on thighs and one on lower back – are made of steel alloy fiber elements. Battery provides up to 10 hours of heat.
The garment also uses antimicrobial fabric which fights odor and bacteria to keep the garment fresh.
Glovii 7V Battery Heated Base Layer Pants
These heated pants have exterior constructed from 85% nylon and 15% spandex, while lining is brushed fleece for great comfort.
Hair-thin micro-carbon fiber heat panels are powered by rechargeable lithium-ion battery.
The heating elements are located on each knee and one on rear hips.
Using an exterior controller that flips over your outwear pants, you can choose between three temperature settings:
low – 5 hours
medium – 3 hours
high – 2 hours
TourMaster Synergy 2.0 Heated Chap Liner
They are designed to operate in all weather conditions using your bike's 12-volt electrical system. They fit comfortably under protective riding apparel.
Thanks to expanding side panels, you can fine tune the fit and increase comfort.
This water-resistant garment is heated by durable steel fiber heating elements, which generate safe, infrared heat.
These steel fiber elements are lightweight, flexible and safe to operate in wet conditions.
See heated pants men's and women's. Or battery heated pants and base layer.
For over 12 years, I have been testing and reviewing heating technologies that overcome cold weather conditions. In recent years, I have specialized in the heated apparel. I've made it my mission to educate people about heated clothing.