Tests and reviews show that these are top models on the market today. They all will keep your feet warm and whatever you choose, you will not make a mistake.
Here are the best heated insoles for your feet:
ThermaCELL ProFLEX Heavy Duty Heated Insoles w/ Bluetooth
ActionHeat Rechargeable Battery Heated Insoles
Therm-ic Heated Insole Kit with C-Pack 1700B Bluetooth Batteries
Hotronic Power Plus S4 Universal Foot Warmer Heated Insole Kit
ThermaCELL Proflex Rechargeable Heated Insoles With Remote
Flambeau Hot Feet Heated Insoles Kit w/Remote Control Switch
ThermoSoles Wirefree Rechargeable Heated Insoles
Lenz Heat Sole 2.0 with rcB 1200 Batteries
Glovii Rechargeable Heated Insoles with Remote
Torch Outrek II Rechargeable Heated Insoles
EXO2 Heatsole Heated Insoles
Click Here to Find More About These Models!
ThermaCELL ProFLEX Wireless Insoles
These insoles were a sensation when they appeared for the first time. Why? Because they are world's only insoles with removable batteries!
This is a HUGE improvement in three ways:
With additional batteries, you can have warm feet all day.
You do not need to remove insoles to recharge the batteries.
You only need to replace the battery when its life cycle ends rather than having to buy a whole new system.
Click here to find more about other great features.
---
Below you will find reviews of two best models of rechargeable heated shoe and boot insoles. (Update: they were the best before the above model appeared.)
As you know very well, if you spend lots of time outdoors in cold, winter days, it's good to have something to protect and warm your feet. This is especially important because when your feet are cold, your overall body temperature drops.
When you get one of these electric insoles, you can spend hours in cold weather with warm, cozy feet.
Thermo Soles Review
These were world's first wireless rechargeable heated insoles.
They produce pleasant warmth and great cushion, giving you the ultimate comfort in freezing winter time.
The Thermo Soles do not just generate heat. Each insole has an integrated thermostat to detect the actual temperature of your foot so it can adjust accordingly. This way your feet will never get too hot and at the same time, conserving battery power.
The warmth will stay with you because of the heat-preserving synthetic material and insulating fabric lining.
Heating temperature range from 31 to 41 degrees Celsius (88°- 106°F).
The heat lasts up to 4 hours on a single charge! Charge depends on the outside temperature and quality of your shoes or boots
Your feet will be very comfortable with a shock-absorbing, ergonomically shaped Polyurethane bottom.
Thermo Soles are powered by Lithium-Ion rechargeable batteries. Initial charge is 8 hours and they are recharged in 2 hours.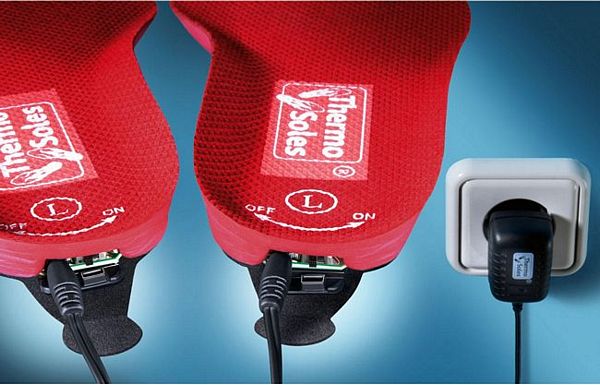 Batteries run up to 500 charging processes, which means 5 years of use!
The insoles weigh only 110 grams and are 3 mm front and 12 mm rear thick.
If the insoles are too big for your shoes or boots, you can cut them to fit any type of footwear. Just follow the cutting guide and make sure you do not go beyond the solid line to prevent damaging the heating elements.
The Thermo Soles are perfect for ski adventures, outside work, hunting, fishing, running, cycling, hiking, etc. Both men and women can use them; different sizes available.
One can find some bad reviews about them but, as I discovered, they all stem from the same problem – not reading the instructions carefully! When charging them, make sure both switches are 'off' and that you recharge them at the same time.
Also, some people forget that they are are thermostatically-controlled. So, if you are wearing them when it's not that cold, they will not be activated, leading you to think they're not working. To find out if they work or not, turn them on and put them in the freezer for 10 minutes.
See all heated clothes!
Thermacell Review
This heated insoles foot warmer will also make it possible for you to stay out longer during colder weather.
You can control the temperature with a wireless remote that comes with lanyard to keep the remote handy.
This is really great because you can readjust the heat without bending down or removing shoes or boots.
Ultra-thin rechargeable lithium-ion batteries provide up to five hours of consistent heat (on medium setting).
The Thermacell insoles have three temperature settings: no heat, medium 100°F (38°C) and high 111°F (43°C).
Once the heated insoles reach the chosen temperature, they temporarily turn themselves off. When the temperature drops, they turn themselves back on.
Batteries will last at least 2,500 hours or four winters of heavy use. They can be recharged about 500 times. They recharges in 4 hours.
The molded, cushioned, water-resistant insoles have four insulating layers. They can also be trimmed to fit.
There are no bulky wires or sharp battery packs in the insoles. Heating elements are slim and do not impede movement.
Men's and women's sizes S-XXL.
Bottom line:
Both of these product will allow you to carry on with your hobbies and way of life during the blistering cold. They will keep your feet perfectly warmed.
These electric insoles are amazing! They're built tough, they're comfortable and perform better than any other rechargeable heated insoles.
Both Thermo Soles and Thermacell would make a great gift for any person that spends lots of time outdoors in the winter.
They are unreal! You can use them while hunting or walking, or when working outside, or you can put them in your slippers on cold mornings while enjoying a cup of coffee.
Try them, you have nothing to lose, except cold feet!
FNDN Waterproof Heated Insoles with Remote
We also want to briefly mention FNDN remote-controlled heated insoles.
They will not only keep your feet warm and cozy, but they are also waterproof! Rain and wet snow will not ruin your insoles!
Thanks to a wireless remote control, you can turn them on and off without removing your shoes or boots!
The insoles automatically maintains a consistent temperature, between 104° and 140°F. Three heat settings: low, medium and high.
Built-in rechargeable batteries operate 8 hours on a single charge. There is also an automatic shutoff for safety.
They are shock, sweat, and odor absorbent. You can trim toe area for a custom fit.
Click Here to Buy With Free Shipping!
See best heated shoe & boot insoles and read ThermaCell heated insoles review.
For over 12 years, I have been testing and reviewing heating technologies that overcome cold weather conditions. In recent years, I have specialized in the heated apparel. I've made it my mission to educate people about heated clothing.