There are many rechargeable heated jackets on the market. Here I'm going to talk about some of the best battery operated heated coats.
FNDN Heated LED Athletic Jacket with Built-In Heated Gloves
This is the first ever heated jacket with LED lights for visibility and safety at night that also has built-in heated gloves. Basically an all-in-one outdoors garment.
The first feature that everyone's excited about is these LED strips. There's three LED strips for visibility. There's one on each wrist and one down the center of the back. If you're riding a bike at night, walking your dog, whatever your outdoor hobby is, this makes you very visible and not an easy target.
When it comes to the materials, it has proprietary material that is lightweight enough to be worn if you're running or walking outside. It's basically like a sweatshirt, but it has heat so it'll get you a little bit longer in the season.
It's both water-resistant and wind resistant with a good amount of stretch.
The jacket is fully machine washable. You have to take out the batteries. We do recommend to hang dry
On the front is main zipper and then the two pocket zippers. They're all reflective.
You have a front chest pocket for easy access. There are two pit zips, so if you're overheating when you're running, you can
zip those down, get some airflow going inside the jacket.
There are built-in heated gloves.
There's a little pocket in the sleeve, you pull the red tab, opens the pocket, pull out the gloves. It's a really thin heated glove. The heat runs down each finger and across the back of the glove. On the fingertips, it's touch screen sensitive, so you can
actually answer your cell phone if you need to on the fly.
The whole jacket is controlled with three buttons. The left one, you hold it down for three seconds and it'll turn on the heat
to your hands and it has three heat modes – high, medium and low.
The center button controls the heat on the chest and back. Hold it down for three seconds, you'll get the heat on. Again it has high, medium and low heat modes.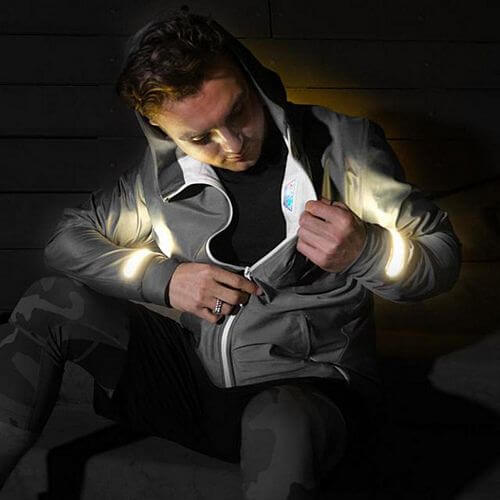 Click here to buy with free shipping!
The last button is the LED lights. Turn that on, the different levels of that controls the intervals of which the lights flash.
If you're wondering how the jacket is powered and operated, there's a battery pack in the base of the back and it's a
10,000 milliamp dual port USB power bank.
It's charged with a microUSB. You can use your phone charging cord, run it through the tunnels and it can go back to charge your mobile device in the front pocket.
Milwaukee M12 Black Heated Jacket Kit
It combines advanced carbon heating elements with multi-layered fabric technology.
Made from wind and water resistant polyester material. There is also an interior storm flap as well as thermal knit fleece inner lining to keep heat in.
The jacket features three heat settings per zone: high, medium and low.
Durable carbon fiber heating elements are located at chest (2), back and lower pockets.
Rechargeable battery provides the right amount of heat for up to 6 hours.
The battery holder is hidden out of your way in a sleek back pocket.
DeWalt 20V/12V MAX Class III High-Vis 3-in-1 Heated Jacket
Covered in bright yellow, this jacket will keep you visible on the job site or any other low visibility conditions.
It's made of extra durable water and wind resistant outer shell. It also has a zip out water and wind resistant hoodie liner.
The LED controller has a pre-heat function and 3 temperature settings
Core heating zones are located on the upper left and right chest and the mid-back.
You can have up to 7 hours of heat on low setting using the 20V MAX rechargeable battery.
My Core Control Men's Heated Softshell Jacket
Made of 92% polyester and 8% spandex with a 100% polyester lining for added cushioning.
The jacket is operated by two rechargeable 3.7V lithium-ion batteries.
There are three levels of heat that provide up to 12 hours of warmth on the low setting (125°F) and up to 6 hours on the high setting (135°F). Medium level 130°F for 9 hours.
Mobile Warming 7V Alpine Heated Jacket
It has lightweight construction made of 4-way stretch high breathable, waterproof fabric. Mesh lining wicks away moisture
Three heating panels: two on the chest and one on the back, provide quick warm-up and even distribution of heat
With integrated touch button control on garment for easy temperature control.
Rechargeable lithium-ion battery powers the jacket and has four temperature settings:
100% – 135°F – 2.5 hours
75% – 120°F – 3 hours
50% – 105°F – 5 hours
25% – 90°F – 10 hours
Venture Heat Men's Escape Heated Softshell Jacket
Operated by any 2.1A USB Power Bank, the entire coat is is lined with an ultra soft plush fleece. This has two goals: to trap the heat and to offer incredible comfort.
The softshell heated jacket (86% polyester, 14% spandex) is water resistant and windproof.
Three heating panels: back one and one on each chest.
The pocket which holds the USB Power Bank is located on the back left hip which is almost invisible.
Heat settings and duration:
low – 11 hours
medium – 6 hours
high – 4 hours
Click here to buy these models or to see many more options!
These battery operated, rechargeable heated jackets provide superb warmth and all-day performance to keep you warm and comfortable throughout the day.
See electric heated winter jackets and best battery powered heated jacket.
For over 12 years, I have been testing and reviewing heating technologies that overcome cold weather conditions. In recent years, I have specialized in the heated apparel. I've made it my mission to educate people about heated clothing.